Why your customers will love the new Hormann internal Timber Doors
Capital Garage Doors
Door leaf and frame versions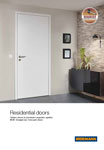 High-quality door leaf: Available with four different door leaf inserts – from a simple honeycomb insert up to a high-quality solid chipboard.
Sturdy timber frame: Consists of an extra sturdy 25-mm-thick jamb lining. Particularly robust MDF boards give the decorative edges and rebate cladding a smooth surface.
Robust steel frame: An alternative to the timber frame: the robust steel frame. Thanks to a special final coating, the colour surface is particularly resistant.
Extremely impact resistant: Duradecor surface
The high-quality surface will delight you: Duradecor captivates due to features such as heat resistance, robustness and impact resistance, which combine to ensure a long service life.
See and touch: Duradecor texture
The finely textured surfaces allow you to feel what you see. A wood grain texture is embossed into the door leaf, making the characteristic wood structure of the Duradecor texture surface tangible. In the synchronous texture, the wood grain matches the printed surface finish exactly.
High-class and smooth: painted surface finishes
Timber internal doors with white painted surfaces have an especially classic and high-quality effect. The Hörmann paint coating on a white base plate ensures a uniform surface with a rich, vibrant colour.
All natural: real wood veneer
Hörmann real wood veneers are produced from high-quality real timber and are truly unique. An environmentally-friendly protective paint ensures that you can enjoy your real wood door for a long time.
Download the brochure and find out more about our range of Hormann products