A Ryterna Side Hinged Door is the perfect solution if you want to replace an old garage door, but not retain the style. These doors are tailor-made and include lots of options like wicket door, windows, glazed panels, pet flap etc. Available layouts: horizontal, vertical and chevron. Door split can be – 50/50, or in any other reasonable proportion. All doors are tailor made: colours, windows placement, split and other options according to customer's specifications. Contact us for further details.
Ryterna side hinged doors offer a range of sizes, designs and garage door finishes.
Main technical features:
up to 3 m wide
up to 2.4 m high
For bigger sizes ask manufacturer (up to 6m wide, 10m high).
Easy and fast fitting
All fixings included
Frame profile cross-cut
Standard -same colour as door. On request can be painted any different colour
Frames (without moulding) outer size is 10mm less than structural opening width and 10 mm less than structural opening height
Optional Espagnolette lock
Various handle options
Door stays – Adjustable leaf opening angle 90 – 140 degrees
Stainless steel appliqués with standard and custom motifs available
The canopy profile prevents water from getting inside when door it is fitted flush with the wall
Garage doors higher than 2.10 metre can be equipped with 3-point lock. Locks the door leaf in three places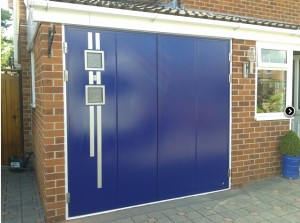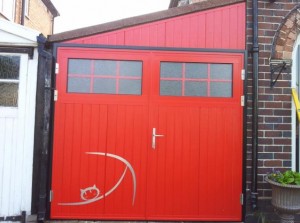 R40 garage door model track system comes fully preassembled with tension springs, cables and accessories. The door with R40 type hardware is very easy and fast to fit. Durable and reliable system – fit and forget. TL track system with torsion springs provides perfect counterbalance for a sectional door of any size. All track types available including +PR tracks for door installation under the pitched roof. Both with ball bearing rollers, safe track system, reinforced frame with finger protection, anti-pinching panels – outside and inside.
R40 Main technical features:
Max opening W: 3,500 mm wide (for Top Rib, Slick, Slick+, Midrib+, Wood Midrib 3,000 mm)
Max opening H: 2,500 mm
Min required headroom 80 mm
Min required sideroom 80 mm
Spring lifetime ~15,000 cycles
Uvalue 1-1.2 W/m2K
Noise reduction level -25 dB
TL Main technical features:
Max opening: 6,000 mm wide (on request available up to 12 metres width)
Max opening: 3,000 mm high
Min required headroom 90 mm
Min required sideroom 90 mm
Spring lifetime ~20,000 cycles
Uvalue 1-1.4 W/m2K
Noise reduction level -25 dB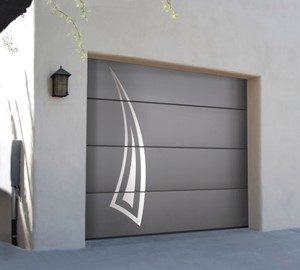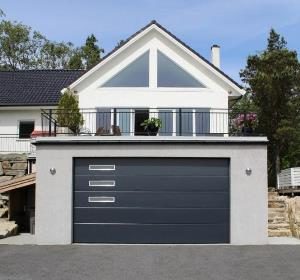 Side Sliding Doors designed for elegant look, convenient use and long service life. Ultra modern look. All panel designs including glazed or Georgian. Lots of additional options. No need for wicket door. Compatible with electric operators. Tailor made doors will make your house look like million worth.
Main technical features:
Max opening: 6000 mm wide
Max opening: 3000 mm high
For other sizes ask manufacturer
Min lintel height 120 mm
Standard corner 90 degrees. Custom corners available upon request
Min side-room: 200mm (or 150mm if motor operated) on guiding rail (opening) side and 70mm on closing side