Alutech – All 7′ 0″ doors now 4 panel
Capital Garage Doors
Alutech begins production of 525mm panels across the range
Alutech have extended their sectional door panel range to include 525mm panels in L-Rib (smooth and woodgrain) and M-Rib (smooth).
Along with the 525mm M-Rib woodgrain, which has been available for some time, this ensures any M-Rib or L-Rib door ordered as standard 7' 0" height (2125mm) can be produced from 4 even sized panels.
The 40mm Trend series door has already built a great reputation for quality and popularity with fitters. Featuring painted frames, plastic frame leg feet and anti-finger-trap tension spring covers the door is an ideal alternative to any other manufacturer.
The arrival of 525mm panels is both evidence of Alutech's continued commitment to the UK market and confirmation that Trend series doors are now perfect for any UK garage!
For more information contact sales@capitalgaragedoors.co.uk or call 01293 652470.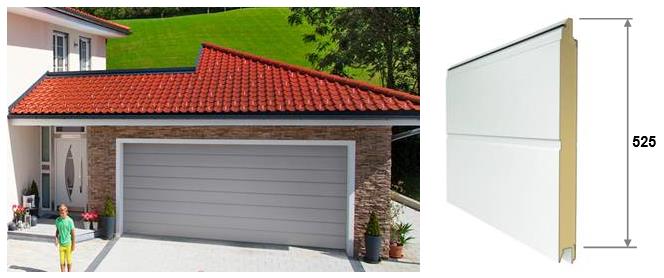 All 7'0" high doors now 4 panel
Increased production of 525mm panel
Continued product development
Best value sectional door in the UK