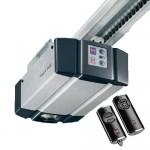 Hormann Bisecur Series 3 Operators
No one likes to get out of their car in windy, rainy weather or in the middle of the night just to open the garage door. With Hörmann garage door operators, you always have a clear path into the garage, as you can open the garage door and gate quickly, conveniently and safely from your car using a hand transmitter. With the fast, convenient SupraMatic, the inexpensive ProMatic as well as the ProMatic Akku, the operator for garages without a power connection, Hörmann offers innovative operator technology.
They say communication is the key to most things, well here is the future in electric operators. Convenient and safe with bi-directional radio technology our bi-directional, high-security BiSecur radio system is based on future-oriented technology that allows you to conveniently and safely operate garage doors, entrance gates, lights and much more. Functions are operated using exclusive hand transmitters. Inquiry of the door position is an especially convenient feature: you can see if your door is open or closed at the press of a button.
Hormann Bisecur Series 3 Operators offer certified security with a stable and interference-free range. The newly developed, extremely secure BiSecur encryption protocol makes sure that no-one can copy your radio signal. It has been tested and certified by security experts at the Bochum University.
The new, exclusive BiSecur hand transmitters are set apart by a black or white high-gloss surface in a piano lacquer look, as well as by an elegant shape that fits easily in the palm of your hand. Hörmann's BiSecur hand transmitters have been awarded a design prize by an international jury.
You no longer have to go out in all kinds of weather to check that your garage door is closed. At the press of a button, the colour of the LED on the HS 5 BS hand transmitter indicates the position of the door. Press the button* again to close the door.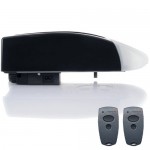 Marantec Garage Door Openers
Whether the garage door is big, small, heavy, light, new or slightly old. If you want to operate your door using a standard electrical power supply, alternative energy sources or extremely fast – Marantec has a model suitable for the job with different rail options in various lengths. Additionally they are very energy saving. They reduce the energy consumption in stand-by mode to a minimum with energy saving bulbs and LED technology. Despite this, all sources of light still offer the best possible illumination.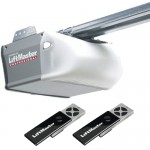 Chamberlain Garage Door Openers – Liftmaster
Chamberlain offers a wide variety of dependable products for professional installers with the LiftMaster. Garage door openers made by Chamberlain are state-of-the-art and provide consumers with the latest innovations in safety, quality and security.