Side Hinged Garage Doors
In recent years there has been a revival in demand for traditional side hung garage doors.  Ideal if you have obstructions inside your garage or limited headroom or if your garage is used for storage.  Opening outwards side hinged doors are easy and convenient to use and can be automated using special conversion arms.  There are numerous size, style, material and colour options available.
Side hinged doors can be supplied pre-hung in their own steel frame or to fit to existing or new timber frames.
Steel Side Hinged Garage Doors
Secure, corrosion resistant garage doors, manufactured from premium grade galvanised steel available in a variety of finished.
Primed doors are ideal for those wishing to paint their new door a particular colour.  Alternatively if you prefer the benefits of pre-finished doors there is the Cardale weather white plastisol option along with weather grain golden oak and rosewood.  You could also consider the Garador range with a choice of six RAL colours to choose from.
Garador's traditional side hinged doors combine robust and reliable performance with simple personal access.  For security these doors are fitted with a self locking handle on the outside as standard which means you always require a key to open the door.  For convenience the option of an outside lever handle is available. Side-hinged doors come with equal sized leaves, with the right hand leaf leading as standard.  Other leaf configurations and/or left hand leading doors are available on request.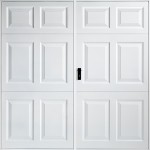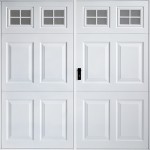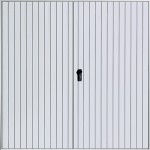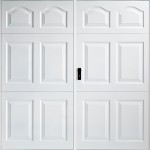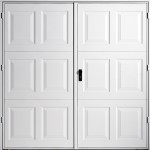 A Ryterna Side Hinged Door is the perfect solution if you want to replace an old garage door, but not retain the style. Theses doors are tailor-made and include lots of options like wicket door, windows, glazed panels, pet flap etc. Available in all panel designs and colours. Contact us for further details.