Alutech price increases
Capital Garage Doors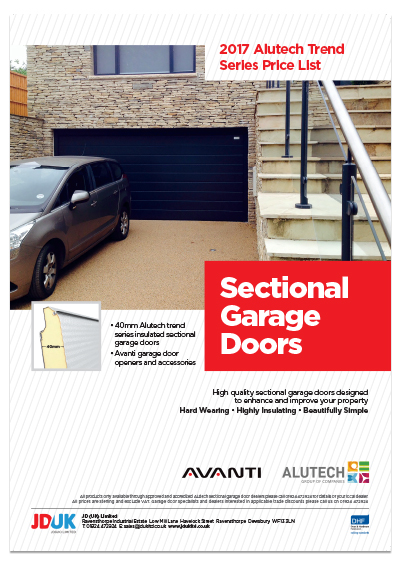 As you are aware, the GBP/Euro exchange rate has been in a steady decline from late 2015.  Since the EU referendum in June 2016 this decline has continued to such an extent that we face a reduction in value of approximately  18%. ** We were optimistic of a recovery in the value of our GBP after the initial slump and as such held off passing these implications onto our customers. Unfortunately, there doesn't seem to be any sign of an improvement in the exchange rate for the foreseeable future and so we are having to increase some of our rates.
As of 1st December 2016 we will introduce a new pricing structure for Alutech Sectional Garage Doors, the overall effect of these changes equates to an average increase of 3%**.
To minimise the impact on Alutech prices the entire price structure has been redesigned. Some door prices have increased, others have fallen. By offsetting increases across the range of products Alutech have achieved a lower overall increase and are confident this will allow the Alutech Range to remain a highly competitive option and hope you will agree this was a better solution than simply increasing every door by a much higher rate.
Summary of main changes
ALL prices are list prices, no nett costs listed
Wood grain and smooth texture now at different price points
L-Rib doors now priced separately to other horizontal ribbed designs
Standard colour prices now apply as listed
Made to measure cut down charge now introduced
Prices for doors-only listed, with Avanti operators listed separately
Alutech undertook extensive price comparison analysis against major competitors and it indicated that Alutech doors were between 10% and 15%** less expensive than others on nearly every door, therefore you can buy from us confident in the knowledge that your doors will be lower in cost than other suppliers.
Whilst we appreciate that a price increase is never welcome news, we hope you will agree this new pricing structure positions the Alutech product as the most competitive option available for a high quality sectional garage door.
Rest assured,  JD recognise the need to constantly monitor the Euro situation. However as they have delayed this price increase as long as possible we do have a high level of confidence further increases on sectional garage doors will not be necessary.
To request anupdate Alutech brochure please contact the sales team sales@capitalgaragedoors.co.uk or download the latest price list here.
* % decline based on date range – December 2015 (GBP / Euro of 1.37) to 4th November 2016 (GBP / Euro of 1.17)
** 3% figure is average of all increases and decreases across the entire price matrix
*** 10-15% figure is the average price difference across the entire range, with some doors higher or lower than this range