MANUFACTURER UPDATE: HORMANN ROLLMATIC
Capital Garage Doors
"From Pallet to Van" : Benefits of the new modular packing for RollMatic
Hormann announced improvements to their RollMatic packaging, allowing for easier transportation to sites.
How the Rollmatic arrived

The redesign of the packaging sections into a modular arrangement, along with the added protection of the fully wrapped curtain, means that the door can be split into individual components for ease of transportation to site. This is a particular benefit for larger doors which may have required more manpower or mechanical lifting equipment of the original palletised door.
New Rollmatic packaging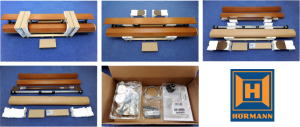 Optimised Guide Design
Inbuilt spacing from the fascia
Double – sealed
Minimum lateral movement
Two part barrel casing
Easier initial installation
Easier access for service & maintenance

Fitting Instructions
Call us for more details. You can also request your updated RollMatic and rolling grilles fitting guide, new for 2016.
Hormann Spares
Need Hormann spares? Visit Sparesmaster for the widest range of garage door spares and parts at competitive trade prices.
CALL 01293 652470 and get more details and place your order