Alutech Trend Door — Affordable, safe & reliable
Capital Garage Doors
Alutech's new 'Trend' Sectional Door
Offer your customers Alutech's 'Trend' sectional door, an affordable, safe and reliable sectional garage door. Not just great for your customers but also easier and quicker for you to install!
Trend Series doors are economical and functional doors of 40 mm thickness with fittings made of galvanized steel, which are optimally suited for regions with temperate and cold climates. They comply with European standards; in addition, all the safety systems are available at no additional charge. The standard door package includes a spring with a maximum lifetime when compared to competitors – of up to 25,000 open/close cycles.
The door panel is 40mm thick with smart density foam filling which gives an impressive U value of 1.08 Wmk which is still better than most comparable panels. Combine this with the polymer coating which is a hard wearing external finish to the panel, Alutech now offers a 15 year panel warranty on the Trend door panel!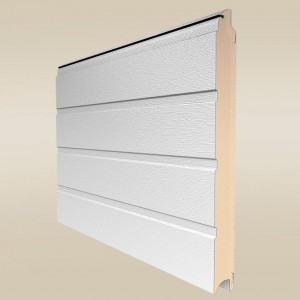 40mm thick twin walled insulated garage door
Smart density foam filling gives a U value of 1.08 Wmk
Roller brackets and intermediate hinges are made of galvanised steel
Doors are available up to 6m wide x 3m high
Can be installed in an opening greater than the ordering size
Curtain balancing with tension springs or torsion springs
Made to measure at no extra cost
Up to 25,000 open/close cycles
15 year panel warranty on the Trend door panel
5 types of sandwich panels: S-, М-, L-ribbed, microwave and cassette
10 standard colours from the RAL catalogue, 3 wood finish colours; option to finish doors in other RAL colours.
A wide range of options: Wicket-door, window, latch lock, protective covers for tension springs, panoramic
So what's new?
Trend series Garage doors – Affordable, safe and reliable
FLEXIBLE INSTALLATION OPPORTUNITIES
The angle bars and cover strip used on Trend series doors allow installation in openings greater than the ordering size – 50 mm more on each side (and also allow for minor out of square deviation). Standard paint colour of the angle bars and cover strip is white (similar to RAL 9016). On request angle bars and the cover strip can be painted in the colour of the door leaf.
PROTECTION AGAINST CORROSION
In heavy rainfall water can collect at the bottom of the doors. The plastic base of the angle bars minimises the possibility of corrosion in high humidity environments, providing the doors with an attractive appearance for a long time.
EFFECTIVE SAFETY
Torsion springs are equipped with ratchet couplers that block the door leaf from falling in the case of spring breakage. This protection system is supplied at no extra cost and ensures safe operation.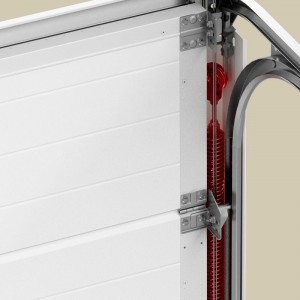 LONG-LASTING OPERATIONAL LIFE
The spring mechanism compensates for the weight of the door leaf, this balanc¬ing allows even heavy doors to be easily opened and closed manually.
Lifetime of springs is up to 25 000 open/close cycles. This corresponds to 17 years of service with 4 times daily opening/closing during the period.
PROTECTION AGAINST DRAUGHTS
Adjustable roller brackets allow achieving close proximity of the door leaf to seals.  This protects against draughts and retains heat in the premises.
The proximity adjustment can be carried out both at the time of installation and in the course of their service.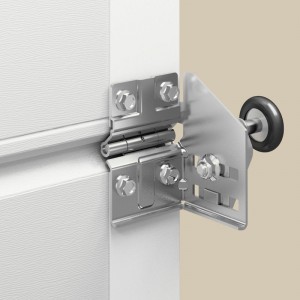 SILENT MOVEMENT
Thanks to the use of rollers with rolling bearings the doors move smoothly and quietly.
Ball bearings of a closed type, protected from dust and moisture are used in ALUTECH/GUENTHER doors.
These bearings do not require re-lubrication and provide high reliability and durability of the running gear.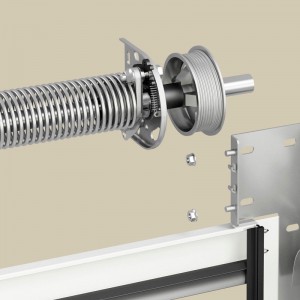 EASE OF INSTALLATION
Application of the Click system simplifies installation of the torsion bar and reduces installation time by 20-30 minutes.
Tension springs are supplied ready assembled together with angle bars and the simplified design of the track hangers also saves time on installation.
The new Trend range offers improved tracks and hardware systems, easier installation and better value for money. Contact the team on 0844 247 2273 for best prices and to find our more.
"The product was well received by our customers and potential customers, as there are a number of aspects that make for a much faster installation. Several customers in fact told me that they could appreciate how easy it would be to fit 2 doors in a day. When we informed everyone that we were planning on offering the door including an operator for the price that most comparable doors are on their own, the response was fantastic". Steve Hudson MD of JD UK – Distributor for Alutech