Delta Overlap Garage Doors
Overlap is an innovative sectional door thanks to its opening mechanism that does not need sliding bars and rails on the ceiling and reduces the internal space needed. It offers a wide range of models, from the traditional with staves to the researched combinations of geometrical designs and wood veneering.
Overlap is the ideal product for optimizing the interior spaces of the garage and enhance the environment. The Delta Overlap trackless sectional garage door is an innovative, high quality, and unique design of garage door, providing all the benefits of a vertically rising sectional or roller type door but without all the tracking associated with a sectional or up and over door.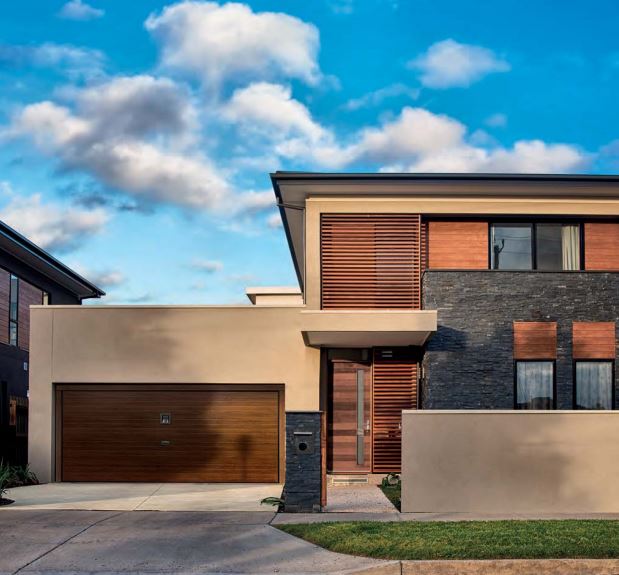 Overlap is an innovative sectional door thanks to its original opening system that doesn't require ceiling tracks and reduces by 50% the internal protrusion. With Overlap trackless garage doors the space inside the garage is best used and the door clearance is optimized, both in height and in width. Just a 200 mm headroom is required. Overlap is equipped with the SilMotion operator embedded in the head-bar. This system operates the doors without visible ceiling tracks. The door raises, folds in half, turns below the ceiling, split in two sections and the lower one slides below the upper one.
Available in 15 standard RAL colours or in all RAL colours as chosen by the customer, lacquered with water-based ecological products or in the different types of precious woods. For every model there's the chance to insert glass parts, windows and ventilation grills according to the needs of the customer and to the environment where the garage door is installed (in compliance with the technical features of the garage door). In the internal face overlap has a white lacquered surface and no visible screws and hardware, allowing to keep it clean and graceful as the surrounding environment.